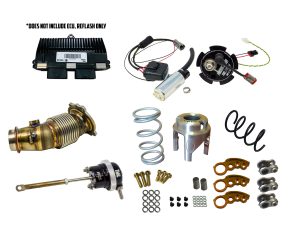 – Stage 2 is the HP ticket to set your 900 Turbo from the rest of the pack.
– Programming the ECU will give you 3 options on the fly.
In ECO mode the machine still uses the stock ECO mode.  (no changes)
In Stock mode the machine still uses the stock HP tune.
In Sport mode the machine utililizes the Straightline Performance 222hp trail tune.

The 222 HP tune is easy to drive in the trails, on the trailer, and at slow speeds.   No jerking turbo boosts!
The 222 HP will still be the sled to beat, but only when you need it.

Stage 2 kit will also by supplied with:

New Rising Rate Fuel Pump
New Actuator
Turbo Outlet Exhuast Pipe
Complete Clutch Kit / to include clickers.

Recommendation

Cold Air Intake Kit 193-110
Replacement Silicon Pressure Tubes.  (straightline has seen many stock ones crack and break under the new pressure)
High Flow Muffler.   3 Options available.
– Straightline Performance will email you a shipping label the next day to ship your ECU via UPS to our door to make the transaction simple and easy.         Just package the ECU attach the label and drop off at any UPS location.
– Be sure to check out the Performance Intakes, mufflers, and  for additional HP gains.